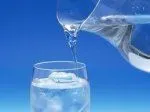 Habit of the Week: Water
It was a life-changing day, back in early 1998 when I agreed to meet a friend of a co-worker. We talked for hours that night, and of the many topics we explored, one stands out even to this day. We talked about….WATER! I remember asking my now husband of many years, why do you drink so much water? His reply was simple, "…because I know what it does for me."
Do you know what water does for YOU and
why one of the Habits of Health is drinking water?
If you need a reminder, check out pages 114-115 in Dr. A's Habits of Health.
He's got some great information about WHY we want to get our water in daily including:
· "It keeps us from overeating. Studies have shown that when we feel hungry, 30% of the time our bodies are actually signaling for water."
· "It minimizes or eliminates fatigue, lack of energy, headaches, and unclear thinking."
· "It speeds up metabolism. A recent study showed that drinking two 8-ounce glasses of cold water increased metabolic rate by 30% for ninety minutes."
What are you willing to do differently this week to strengthen this habit? Need some ideas? Ask your Health Coach!
Wishing you "The Trilogy of Optimal Health"
-Healthy Body, Healthy Mind & Healthy Finances!